REACH Overview
Since its passage in 2006, the EU's REACH regulation (Regulation (EC) 1907/2006) has been a tremendously complex regulation that imposes unprecedented substance-data documentation requirements on manufacturers, as well as unprecedented financial risks for non-compliance.
With the September, 2015 EU Court of Justice's ruling that the basis for REACH compliance is at the single component level, the above complexity and financial risk is now far greater.
Consequently, in order to lower both internal compliance costs and external supply-chain risks, it is critical that your company accelerates its 1) understanding of REACH's financial impact and 2) its implementation of an effective and efficient compliance process.
Impact of the EU's REACH Regulation on:
Product manufacturers who place product on the EU market

All-sized suppliers who provide materials, components and/or assemblies to the product manufacturers who place product on the EU market
REACH Enforcement and Penalties
What You Need to Know
EU REACH is 847 pages and is the world's most comprehensive Extended Producer Responsibility (EPR) law targeting products

REACH targets substances in commercial and consumer products

More than virtually any other regulation, REACH is dynamically changing, e.g. new substances are regularly added to REACH's 3 Lists (described below)

From a business perspective, REACH impacts all-sized companies in even the deepest supply chains

REACH has multi-layered requirements that can be confusing and require careful attention
REACH has legal, business, market and competitive risks (described below) that are often overlooked by product manufacturers – especially

companies that are outside the EU who import into the EU and

suppliers who – directly or via their supply chains - provide materials, components and/or assemblies to OEMs that place their products on the EU market

While suppliers and OEMs could comply with earlier polluting "end-of-pipe" environmental regulations by themselves, REACH (and similar EPR laws) require entire supply chains to collaborate in compliance solutions by providing complete and accurate substance data to their customers

Implementing a REACH-compliance solution requires two aspects:

Adding selected REACH tasks to current tasks within Purchasing, Design Engineering, Legal and other functions; and

Implementing or outsourcing a data-collection program to gather, verify and exchange data that is traceable and updateable

3 keys to a successful data-collection program include:
Utilizing data-collection specialists who can evaluate data for its completeness and accuracy;

Having an industry-wide common data-exchange platform with common rules and a common data format; and

Leveraging low-cost training that can be accessed by every company within a supply chain
Except for the automotive industry, the evolution of REACH-compliance solutions is currently inconsistent in the aerospace, defense, electronics, heavy equipment, medical and other industries, depending on the involvement to date of industry associations and major companies, as well as the depth of an industry's supply chains; nevertheless, progress is being made in all industries, and industry-wide solutions are visible on the horizon
What You Need to Watch For
A surge in customers requiring suppliers to provide quality data along with quality materials and products, in order to help them comply with REACH. This requirement will likely become a condition of winning business and/or receiving payment

Potential non-compliance of spare parts for currently produced parts that are incorporated into products placed on the EU market; service parts; and after-market parts – all of which are products (or "articles," in REACH language) – must comply

As chemical manufacturers reduce or eliminate their production of REACH-identified Substances of Very High Concern - especially those on the Authorization list – the costs for materials using those substances may rise significantly

If chemical manufacturers encounter higher testing and registration costs for lower volume substances, they may pass those costs along to their supply chain customers, thereby raising material prices
Legislative History
Enacted: December, 2006

Entered Into Force: June 2007

EU Court of Law ruling shifted basis for REACH compliance from wholly-assembled product to individual components (Once An Article Always An Article [O5A]) within the wholly-assembled product: September, 2015
Geography / Markets
Primarily: European Union + 3 other nations (Iceland, Lichtenstein and Norway) that comprise the European Economic Area

Commonly referred to as the "EU"

Additionally: Localized REACH-like regulations in China, Korea, Turkey, and other countries. These laws require attention from companies placing products on any of those markets
Liability
Legal liability: Companies located within the EU, as defined above

Includes manufacturing facilities of companies that are based in the US, Japan, China or other non-EU nations, if those facilities are legal entities in the EU

Business liability: regardless of location, all companies who place products on the EU market and/or supply to companies who place products on the EU market
How REACH Impacts Companies
REACH requires EU chemical manufacturers and importers to register all substances that they place on the EU market, if the annual volume of any substance is greater than one metric tonne (1,000 kilograms)

As part of the registration process, chemical manufacturers and importers submit a dossier of scientific, technical, hazard, safety and related information

Utilizing the dossier information, the European Chemicals Agency (ECHA) evaluates a sub-set of the registered substances. If ECHA determines that a substance is toxic or otherwise harmful, e.g. bio-accumulative, and it is substantially used in EU manufacturing and/or incorporated into products placed on the EU market, it may place that substance on one or more of the following three Lists:

Substances of Very High Concern (SVHC) Candidate List for Authorization: Substances of Very High Concern (SVHCs) with toxic or otherwise harmful properties; as of July, 2015, there are 165 substances on this List

Annex XIV Authorization List: A sub-set of SVHCs are included in REACH Annex XIV, which requires companies to apply for - and be granted - authorization from ECHA to use the substance in very narrow applications after a "sunset" date; as of July, 2015, there are 31 substances on the Authorization List that are found in thousands of compounds

Restrictions List: REACH Annex XVII includes substances that are banned or have very restricted uses in EU manufacturing processes and in finished products; as of July 2015, there are 105 substances and substance groups on the Restrictions List, covering thousands of substances found in thousands of compounds

OEMs and other companies placing products on the EU market must:

Comply with REACH's various substance bans, limitations, notification and/or communication requirements described below

Collect substance data from suppliers throughout their supply chains in order to comply with REACH's various requirements
REACH Requirements
REQUIREMENTS SUMMARY

TYPE OF REQUIREMENT

COMPANIES WITHIN SCOPE MUST:

Substance Bans

Not incorporate any prohibited substances in any product or part that is manufactured or imported into the EU

Substance Limitations

Not incorporate identified substances whose concentration in any given product or part exceeds a legally-allowable limit

Notification to the European Chemicals Agency (ECHA)

Notify the ECHA, if any Substance of Very High Concern (SVHC) in any product or part exceeds a legally-allowable limit; meets a "total volume per year" condition; and has not been previously registered for that use

Communication

Immediately after a substance is identified by ECHA as an SVHC, communicate any known safety information to Downstream Users, if the presence of any SVHC exceeds the 0.1% w/w legal limit. ("w/w" means "weight per weight," and is defined as the weight of the substance in the article divided by the weight of the article in which it is contained)

For consumer products, retailers must either provide documentation of SVHC content to consumers within 45 days of a consumer request or be subject to penalties or fines

Substance Authorization

Not include in its EU-manufactured products or EU manufacturing processes any substance that requires an authorization from ECHA for a specific application, after a "sunset" date has passed, if the authorization has not been granted

Documentation

Make documentation available to any of the 30+ national enforcement authorities in regard to the above requirements, even if it is simply to demonstrate that a company does not need to meet any of the above requirements
REACH Risks
REACH entails a wide variety of legal and business risks for all companies within a supply chain.
While attention is typically focused on legal risks, the greatest non-compliance impact on companies may very well result from business risks, e.g.:
A customer does not allow your products to pass through customs, delays placing your products on the EU market, and/or cancels a contract until you provide substance documentation
A competitor provides substance documentation earlier than your company does, and it uses that documentation to win new customers and to take away your existing customers
Manufacturers of a Substance of Very High Concern (e.g. DEHP) reduce the volume of the SVHC that they place on the market, thereby driving up the costs for that SVHC
Because of substance regulations and/or market forces, product manufacturers are forced to find alternative substances, requalify materials and/or redesign their products, all of which can be costly and time-consuming
REACH Enforcement
Background
Under REACH (Art 126), authorities in EU Member States enforce REACH.
Specifically, each Member State determines and implements administrative and/or criminal penalties that apply to a broad range of REACH infringements.
As an indication of the enforcement in the EU, herethe chart below lists:
A small sample of the more than 80 sections within REACH that are subject to enforcement

A sampling of EU Member States, whose national authorities may enforce those REACH provisions
Representative REACH Provisions to be Enforced by Country
Country

Austria

Belgium**

Bulgaria

Cyprus

Czech Republic

Denmark

Estonia

Finland

France

Germany

Article

Catch-all

●

1

●

●

●

●

●

●

5

X

X

X

X

C

C

C

X

X

X

6(1)

X

X

X

X

C

C

C

X

C

X

6(2)

X

X

C

C

C

X

C

C

6(3)

X

X

X

X

C

C

C

X

C

X

7(1)

X

X

X

X

C

C

C

X

C

X

7(2)

X

X

X

X

C

C

C

X

X

C

7(3)

C

X

X

X

C

C

C

X

C

C
To see the full chart, click here.
Categories of "Effective, Proportionate and Dissuasive" Risk
REACH requires that punishments for non-compliance be "effective, proportionate and dissuasive." These punishments may include:
Denial of market access due to insufficient REACH documentation
One or more Member States may authorize the blocking - or recall - of product shipments.
Additionally, since EU importers face legal liability for products they place on the EU market, they may refuse to accept product shipments from non-EU manufacturers without proper substance documentation from those manufacturers
Penalties
As evidenced by the Chart below, there is a wide range of fines amongst the Member States.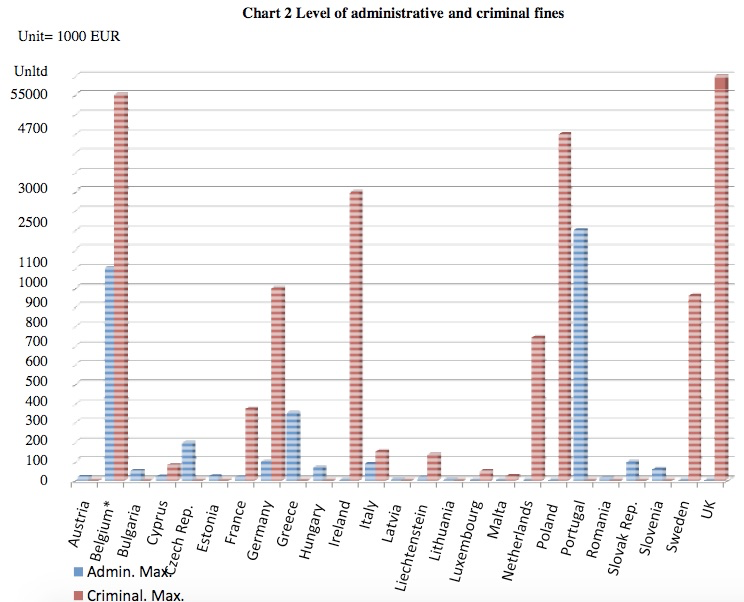 Source: http://ec.europa.eu/environment/chemicals/reach/pdf/report_reach_penalties.pdf
Enforcement Forum
The European Chemicals Agency ("ECHA") has established the Forum for Exchange of Information on Enforcement ("Forum"), which coordinates a network of Member State enforcement authorities.
Among its legislated tasks, the Forum is tasked with:
Proposing, coordinating and evaluating harmonized enforcement projects and joint inspections

Identifying enforcement strategies, as well as best practices

Developing and implementing an electronic enforcement-information exchange
Activities
Periodically, the Forum coordinates enforcement activities across Member States and addresses a particular aspect of REACH.
As an example, the most recent coordinated activity involved enforcement agencies from 28 nations. Between February and August 2013, these agencies investigated 528 chemical manufacturers and importers for potential violations in regard to 3,065 substance registrations.
Arguably, the most important aspect of the above activity for the equipment industry was the widespread involvement of customs. "...in 85% of the participating countries the REACH enforcement authorities used the customs data provided them, while in 15% of countries, the risk assessment for targeting individual duty holders was performed by customs themselves. (This activity) has proven that REACH enforcement ...has established a functioning cooperation with customs. This allows enforcement authorities to make use of data from individual customs declarations in their routine inspections of REACH duties."
2016 Enforcement Focus
Recently, the Forum decided that its 2016 major project will focus on enforcing substances in products that are on REACH's Annex XVII Restrictions List. As of July 2015, there are over 1,000 substances on this List, some of which are commonly used (lead, cadmium, others) in either restricted or exempted applications within the equipment and other industries.
The 2016 enforcement focus represents a broadening of activity from consumer products and chemical manufacturers to professional and industrial products.
Equipment manufacturers will need to provide customs officials with substance documentation in order to demonstrate that their products placed on the EU market do not violate any Annex XVII restrictions.
DISCLAIMER: This Overview is not intended to include every nuance of the REACH Regulation. RSJ Technical Consulting does not take any responsibility for the completeness of the information – especially since REACH is a very dynamic and constantly evolving regulation. Additionally, RSJ Technical Consulting does not take any responsibility for how individuals, companies and organizations may use this information or for any aspect of REACH's impact on their business. Individuals, companies and organizations are advised to consult their Legal staff and/or to seek third-party assessments of REACH's impact on their business.